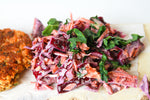 Coleslaw:
1/2 a small red cabbage
3 carrots
3-4 bok choy
Dressing:
1 cup of mayonnaise
2 Tbsp of apple cider vinegar
2 Tbsp of raw Miel Rebel Honey
2 Tbsp of dijon mustard
1 tsp of sambal oelek (fresh chili paste)
1/2 tsp of celery salt
1/4 freshly ground pepper

In a small mason jar with a tight fitting lid, scoop in the honey. Add very hot tap water into a bowl that fits the mason jar. You want to soften the honey by floating the jar in the hot water, so it blends easily with the other dressing ingredients.
While the honey is floating, thinly chop the red cabbage and bok choy and peel and shred the carrots. I did this with a small grater (shredding a nail or two in the process ;) or you can use a food processor. Add the mayonnaise, vinegar, mustard, sambal oelek, salt and pepper into a bowl with the softened honey. 

Pour the dressing ingredients over the shredded vegetables and mix really well. I find the taste develops if you leave the salad to sit in the fridge for at least 20 minutes. When you are ready to eat, take it out of the fridge and give it a good mix to ensure the dressing is well distributed.

You can easily substitute the bok choy for kale or change it up with broccoli. I served mine with salmon cakes, but it pairs equally well with a sandwich or roasted meat or tempeh.