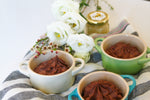 1 can of coconut cream*
2 tablespoons of cocoa powder**
2 tablespoons of Miel Rebel Honey raw honey***
Combine the coconut cream with the cocoa powder and the honey. I used a stand mixer but you can use a spoon, it will just take a little mo
re arm power. If you want to be fancy, you can transfer the mouse to a pipping bag like I did. This recipe fills 4 to 5 ramekins. Chill in the fridge for at least an hour prior to serving.
*If you can't find a can of coconut cream, but you can find coconut milk, simply buy 2 cans and put in the fridge overnight. The cream solidifies in the fridge and you can scoop out the cream and reserve the coconut water. You can use the water in smoothies! Do not use cream of coconut. This is a liquid and doesn't harden like the cream does.

**I use 22% cocoa powder to get a really rich chocolate taste. It's available at most bulk retailers like Bulk Barn.
*** Think of the possibilities! Honey with strawberries would be an obvious choice for flavoured honey to try with this recipe, but I also think that honey with jalapeños would be amazing!