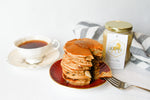 Banana peanut butter chocolate chip pancakes
1 cup of spelt flour
1/4 cup of Miel Rebel Honey raw honey
1 tsp of baking powder
2 tbsp of peanut butter
1 small banana
1 egg
1/2 of oat milk (but you can use your preferred milk)
A handful of chocolate chips (I love Enjoy Life chunks)
Peel and mash the banana. Combine the flour, honey, baking powder, peanut butter and egg with the mashed banana. You will have a thick batter, which is what you want to ensure the peanut butter and honey are mixed in. Slowly add about a 1/4 cup of milk and mix to combine. You are looking for a fairly runny batter, so check the consistency and add more milk as necessary. You may not use the entire amount of milk.
Heat a large non-stick pan on medium. You can add a small amount of oil, but I don't find these pancakes stick to a good teflon pan. I poured the batter into some fried egg molds to make them nice and round for the pictures, but that isn't necessary. Ensure you leave some room between the pancakes as the batter tends to spread in the pan.
Leave the pancakes to cook until you see small bubbles appear on the surface and gently flip to cook the second side. Drizzle with a small amount of honey to serve. Enjoy!