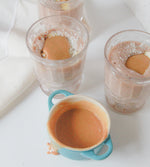 For me, smoothie bowls should be eaten with a spoon, not a straw. I like them to be the consistency of soft serve ice cream, so they feel like a treat, not a diet food! To this end, it's really important to limit the amount of liquid you put in your blender, being patient to scrape down the sides, resisting the urge to simply add more milk to make it come together. Other than the base of this being a frozen banana, you can customize these with any fruit or topping of your liking. Makes two small bowls or 4 small cups of smoothie.
Ingredients
For the smoothie:
1 frozen banana (I like to chop then freeze them in single serve portions)
1/4 frozen fruit (I used blackberries in this case)
1 scoop of protein powder (I used Diesel chocolate peanut butter flavour)
2-3 tablespoons of milk (dairy or non-dairy)
Toppings:
1 tablespoon of peanut butter (warmed for 20 seconds in the microwave)
1 tablespoon of Rebel Honey raw honey
1 tablespoon of ground flax
Sprinkle of dried coconut
Slices of fresh banana
Start by blending the frozen banana, until it forms a paste. I stop every few seconds to scrape the sides of my blender. Next add your blackberries and protein powder and blend until combined. If you find your blades spinning and not moving the fruit around, add 1 tablespoon of milk at a time. Be careful not to add too much milk and end up with it being too runny. Once everything has come togeher, you should have to scrape the smoothie out of the blender into your bowl or cup.
Put your peanut butter into a microwave safe bowl and heat it slightly, 20 or 30 seconds, to make it runny. Add the raw honey to the warm peanut butter and mix. Add your toppings to your smoothie bowl, in this case I used ground flax, dried coconut and banana slices. Finally, pour your honey and peanut butter mixture on top of your smoothie and enjoy!